Do you already own a golf cart?
Then you do not need a NEW one!
We can upgrade or repair your existing cart and make it much better than it currently is. We can do also do what we call a ground up resto make it BETTER than when it was NEW! We can increase speed, torque, driving distance as well as improve its overall look and how comfortable it is!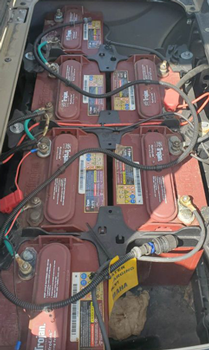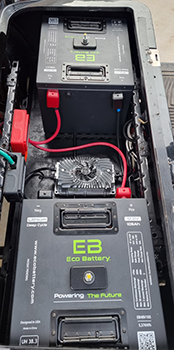 Is this your set up?
<---------------------------------
We can definitely improve upon that!

This is what your battery compartment should look like.
------------------------------------->

By upgrading to just one lithium battery you will shed over 300 pounds, increase distance and make the cart quicker!

All Eco Batteries come with 8 year warranties.
How does your cart look and drive? We can add a lift kit along with larger rims and tires!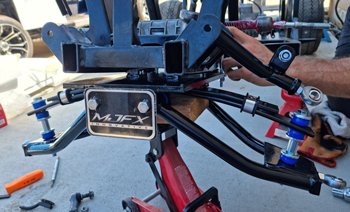 The pic here on the left is the Madjax 4" A-Arm Lift which allows you to adjust toe, camber and caster. This is NOT possible on a stock golf cart!

Want to turn that four seater into a 6 person Limo cart? We can do that too!
Most every cart can be upgraded and/or repaired. Repairs can be any number of things; bad solenoid, bad/old wiring, bad batteries, faulty motor or fried controller. These are the most common of issues and we perform these type repairs and more. We will get your cart back to (or much better than) where it was when running.

Give us a call and schedule a time to come over so we can check out your cart. We will look it over, test ride it so we can discuss options and pricing.
858.789.0887
pin_drop
Visit our New Location
1556 Grand Ave. Suite C
San Diego, CA 92109
phone
Call us Directly
858.789.0887
Monday - Friday
10:30-5:00pm
Saturday - Sunday
by Appointment
business_center
Company Details
Capp's specializes in building only the best
Street Legal Carts