Looking to try before you buy?
In town on Vacation?
Call: 866.CAP.CART
Are you a local considering a Custom Cart? In town on vacation?
Reserve your Street Legal Cart now!
Starting July 1, 2022
Beginning July 1st, Capp's Rentals will be offering a variety of street legal rentals to cruise Pacific Beach enjoy everything it has to offer.
Our carts are all electric and come fully charged, ready for you to enjoy.
Carts come equipped with seat belts, cup holders, USB cell phone chargers and more.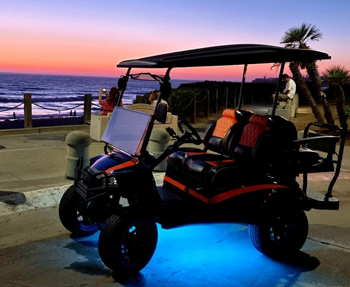 Explore the coast, take your kids and your stuff to the beach and find easy parking!
Reminder, Street legal golf carts can only be driven on streets and roads with a maximum speed limit of 35 MPH.
Beginning July 1, 2022
Coming July 1, 2022.
Contact Capps
(866) CAP-CART

pricing to be determined shortly
pin_drop
New Pacific Beach Location
1566 Grand Ave "C"
San Diego, CA 92109
Just West of Ingraham

Call for an Appointment
Or to Reserve a Cart
Please, No Walk Ins
phone
Call us Toll Free
(866) CAP-CART
Mon - Fri
10:00-4:00pm
business_center
Jump Auto dba
Capps Carts
A Licensed CA
Car Dealership
doing business as
Capp's Carts